6-credit program (2 courses)*
Travel Dates for 2022: June 5 – 20 (SU I course)
On-campus pre-departure class May 30 –June 2 June (SU I course)
Post Rome trip class: July 5 – 15 (SU2 Course)

APPLY HERE
(click on link and then look for FLP: Layers of Rome application on study abroad FLP menu page).
Enrollment
This is a 6-credit hour course offered by the Humanities Program. It is open to all undergraduate & graduate students who are qualified to enroll at The University of Texas at El Paso.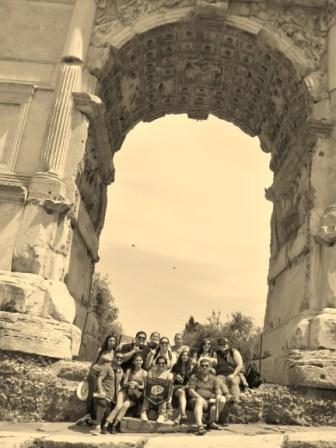 All students going on the trip must be enrolled and their university fees must be paid in full two weeks before departure. To enroll students must obtain the permission of the professor and pay a $500 deposit. With permission and deposit, students will be enrolled via the Humanities Program's Administrative Assistant.
Course Credit
The course is cross-listed in the UTEP Schedule of Classes in the following courses: HIST 3390, HUMN 4390, ART 3307, POLS 4350, and COMM 4350 under Special Topics, "The Layers of Rome." All courses offered fulfill Humanities Black Electives. Students may choose which ever listing fits their degree requirements. Graduate students may take the course with the permission and advising of the professor as an Independent Study and Internship Study.
*Both courses area required for the Layers of Rome Study Abroad program unless otherwise approved by the program director.