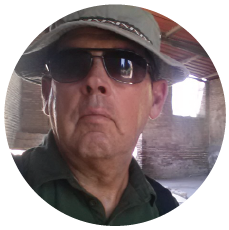 Dr. Ronald J. Weber
Interim Chair of the Philosophy Department
Director of the Humanitites Program &
the Masters of Arts in Interdisciplinary Studies Program at
The University of Texas at El Paso

Associate Professor of Ancient History and Humanities, I currently serve as the interim chair of the Philosophy Department and Director of the Humanities Program and Masters of Arts in Interdisciplinary Studies Programs at the University of Texas at El Paso. My research interests focus on the history of ancient Rome, and I teach courses on ancient Rome, Greece, the Middle East and the impact of classical Roman culture in the United States. I have researched and published on the great Italian families of late antiquity.

Since 2002, I have led a yearly two-week study abroad trip to Rome and central Italy. An article on my successes and pedagogies when leading students in study abroad trips is forthcoming in Interdisciplinary Humanities. My current research focuses on the history and evolution of the city of Rome and its place as a center of world culture. I am nearing completion of a chapter on Lady Elizabeth Foster, Duchess of Devonshire, and her sponsorship of excavations in the Roman Forum for the book With Italy as their Muse: British Women Travelers in the Long Nineteenth Century, 1815-1918.

As Executive Editor of Interdisciplinary Humanities, the journal of the Humanities Education and Research Association, I oversee the financial aspects and review submissions for three issues each year. I have written about the Roman family Caeionius in "Albinus: The Living Memory of a Fifth Century Personality" in the journal Historia and published work on the Roman historian, Livy, in Collection Latomus Studies in Latin Literature and Roman History. Among my publications in the scholarship of teaching and developing core texts are "A Search for Order in the Cosmos: Using Plato's Symposium to Examine Herodotus," "Young Marco Polo: The Long Term Effects of Study Abroad," and "Core Text: Reading Nafisi in El Paso".

In 2015 I won a grant from the National Endowment for the Humanities to serve as Co-Director of a Summer Institute for Teachers/Scholars on the significance of the Monuments of Rome in English Culture. The website, The Layers of Rome, which was created during this Institute, now operates as an expanding, open access resource promoting materials for teachers and scholars interested in ancient Rome. The site provides institute participants and my current students with a platform to display their research and pedagogies for teaching Rome. From 1997 to 2002, I also served as a Distinguished Fellow of the Center for Excellence in Teaching and Learning at the University of Texas, El Paso. In 2007 I published in the Journal of the Scholarship of Teaching and Learning the article "Creating the Teaching Professor: Guiding Graduate Students to Become Effective Teachers". I continue to be active in the development of improved teaching methods as a regular reader and proposal evaluator for JoSTL.