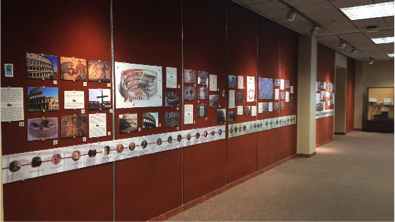 In 2016-17, UTEP students developed their research in Rome into an interactive, bi-lingual, multimedia exhibit, which combines traditional exhibit practices with digital media. Their goal was to draw the attention of young people to the condition of cultural landmarks, the need for the preservation of historical artifacts and the current efforts to maintain historical monuments. By focusing on Roman life and culture, the exhibit emphasizes the role of cultural heritage in the development of cultural ties across the globe. Exhibit displays highlight new strategies in preservation practices and emphasize new techniques being applied to enhance the learning atmosphere at cultural sites.

The exhibit is a combination of the physical materials of traditional installations and digital applications via smart device. The physical component is composed of images, maps and text combined with QR codes that link to smart devices to access videos produced by students and faculty, along with current articles and academic studies. Simulations and reconstructions in 3D and 360 degree with POV allow users to drop right into specific sites and vicariously view these Roman wonders. In the future, students of the Layers of Rome Study Abroad Program will continue to add to the Preserving Identities traveling & online exhibit by exploring and documenting a different Roman site or monument each year.
Digital Preview of Preserving Identities Exhibit
Colloseum



Santa Constanza



Obelisks--Coming Soon!